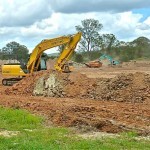 Whether you're taking on the renovation of your own home or a property refurbishment project, short-term development finance can get you underway with funding for property purchases and building costs.
Because you will add value by developing a property or site, you will be able to cover the cost of your loan by selling for a higher price or charging a higher rent.
There's certainly still an appetite for these projects in the UK and district planning authorities are more willing than ever before to give permission.
The DHCLG (Department for Housing, Communities and Local Government) says that in 2017 planning authorities granted 49,600 applications for both major and minor residential developments, and over 10,200 applications for commercial development projects.
Residential properties
Development finance is available for everything from the renovation of a single residential property to construction of a large-scale housing complex.
Once the work is complete, you can sell the property to pay off the loan and retain the profit. Otherwise, you could retain the property and charge a premium rent that will cover the loan and also give you an income.
Commercial properties
You can also choose this route to fund renovation or refurbishment of offices, shops, warehouses or factories. You can use it to give the property a makeover or to make good the fabric of a building.
New builds
Alternatively, you might need funding for a new building project, whether you're going to demolish an existing property to build on the site or have an opportunity to build on a vacant plot.
How much?
The amount you can borrow for property development is usually calculated as a percentage of the property's value, once the work is complete (the gross development value or GDV).
You might be able to borrow the equivalent to 60% of the GDV, which is likely to be around 75% of the costs of the completed project.
Usually funding is available for all the building costs for residential or commercial properties and for part of land costs (perhaps up to 50%). The money will normally be released in instalments as certain stages of the project are completed and certified.
The costs
All the fees should be properly explained to you before you make a decision.
Once you receive a formal offer letter from your lender and accept the conditions, you will be expected to pay a commitment fee of around 2% of the total loan. There's also likely to be a fee of around 2% for your broker.
There are likely to be fees to pay for a solicitor and surveyor for valuations and assessments for instalment payments, as well as legal and administrative fees.
You can normally pay in monthly instalments or you can 'roll up' the interest with the amount borrowed and pay it all back when your project has been completed and sold. If you defer your payments until the end of your project you are likely to pay back more in total.
If you're interested in development finance, we recommend you take the advice of independent broker. We will be happy to explain your options, so please get in touch.