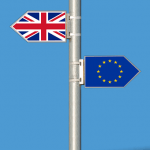 An economic recession is defined as a decline in gross domestic product (GDP) – the market value of the goods and services a country produces – for two or more consecutive quarters.
In the USA private equity investors are predicting a downturn in the UK's economy over the next two or three years as a result of Brexit. Is there any foundation for their predictions and, if so, will it amount to a recession?
Predictions
Predictions that the referendum vote to leave the European Union (EU) in 2016 would immediately lead to an economic crisis were, fortunately, wrong.
In fact, growth in the UK's economy was estimated at 1.8% in 2016, second only to Germany's 1.9% amongst the world's leading industrialised countries. Growth continued at almost the same rate in 2017.
Some gurus are now predicting that another global recession might be around the corner. If this happens Brexit might be blamed for the impact in the UK.  There will certainly be much debate around whether it is better or worse for the UK to be outside the EU at the time.
Timing
Our departure, scheduled for at 11pm on Friday 29 March 2019, is unlikely to bring about instant changes. The agreed 21-month transition period has been designed to smooth our way into the new post-Brexit world.
So, what is likely to happen between the end of March next year and 31 December 2020?
Most importantly, businesses will be able to make their plans based on a clear understanding of the final Brexit agreement around issues like trade, travel and security.
They will be able to carefully examine the implications of the deal while free movement of goods, services and people continues with the EU.
Businesses will also be able to make their decisions in the wider context of the worldwide economy.
During this period, the UK will also be able to make its own trade agreements, ready to take effect on 1 January 2021.
In summary
The International Monetary Fund (IMF) says that we need to make our economy more efficient and highlights that a weaker pound is reducing people's spending.
It's probably true that some businesses will put their investment plans on pause until the situation is clearer.
In reality, driving towards a more efficient economy and a measured approach to business investment could be very good for the UK's economy and for UK businesses.
If a recession is coming, it is likely to be as a result of changing conditions globally, rather than Brexit. Whether the UK will be in a better or worse position as it moves away from the EU is difficult to say.
UK businesses that are preparing for an uncertain future by making sure their efficiency improves and that their investment plans have been well considered are likely to be in a very strong position.
If you would like some professional advice about investing in your business, then please get in touch.